Internet of Things (IoT) Solutions
Get from Idea to market, faster with our IoT Consulting & Design Services
Endless Possibilities with IoT
We're disrupting the value chain. By providing hardware and software, we create more opportunities for everyone. Hacking motors and flying cars. This is not just tomorrow, it's now. We are making it easier for you to do what you couldn't before.
IoT is already beginning to change the way we live. As more and more IoT devices are created, more data will be produced. This flood of data will create valuable insights for businesses that can use this information to make smarter, faster, and better decisions. Neuronics is helping companies harness the power of this information by providing the right solutions and expertise.
We offers a complete IoT services and solutions. Our expertise enables businesses to improve efficiency by introducing automation and delivering valuable business insights. Our strategically designed IoT platforms and nodes facilitate the quick and efficient rollout to market for you to profit.
Combining Nodes, Wireless Communications & Gateways
We have worked with various sensor types and wireless communication configurations including 2.4GHz/5Ghz Wifi Bands, Cellular (4G/5G) and LoRa (low-power wide-area network modulation) techniques. We bring the right mix of IoT Engineering, IoT Technology, Big Data, Analytics and Artificial Intelligence (AI) experience to help your business create and implement a successful IoT solution that drives its long-term
IoT Consulting
IoT consulting helps drive max ROI from IoT adoption. At Neuronics, IoT consultants can plan the networking of IoT devices, set up real-time and advanced data analytics, create monitoring and control apps.

IoT Analytics
Neuronics IoT Analytics is a fully managed service that operationalizes analyses and scales automatically to support up to petabytes of IoT data. Now you can analyze data from millions of devices and build fast, responsive IoT applications
IoT Application Development
Neuronics Build native, web, hybrid, or PWAs on the OS of your choice. Receive our expertise in multiple languages, SDKs, and popular IoT frameworks and platforms. We make apps intelligent by integrating AI-ML
Sensor Design
Smart sensors are key to the success of the Internet of Things (IoT), the network that connects physical devices to collect and exchange data including sensing element, amplification , Hardware and software
Edge Computing
Edge computing is gaining momentum in the global tech market. It reduces the time it takes to receive information and decreases the amount of traffic traveling across the internet's infrastructure.
Expert Architects
Neuronics IoT architect will own the overall IoT solutions strategy, product & solution implementation offering across the network, IT & customers. We will be leading the IoT systems and solutions Provider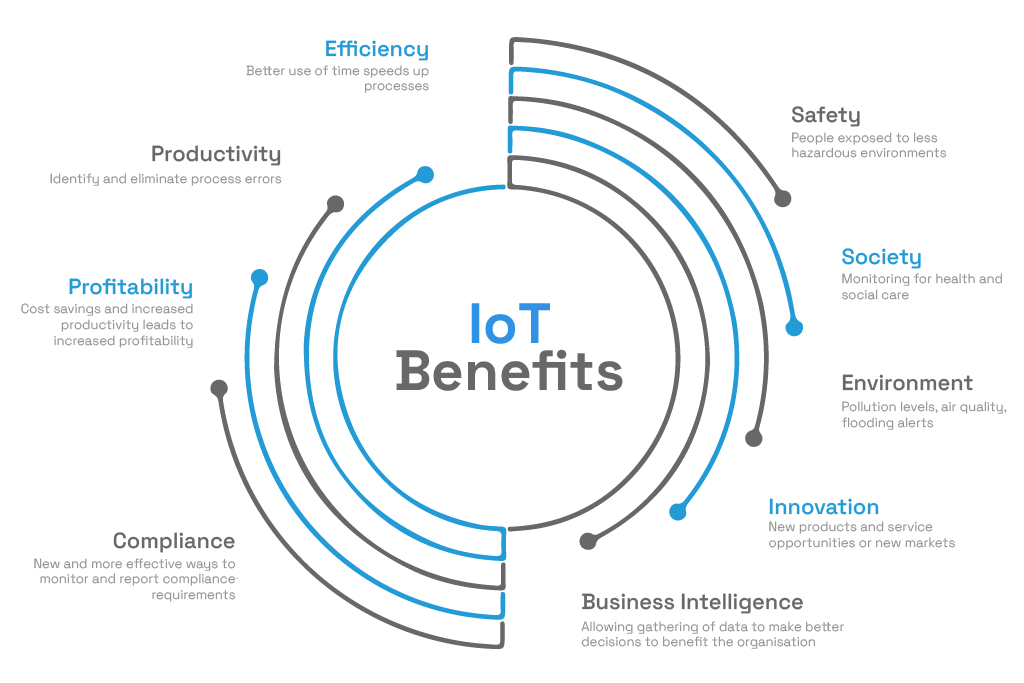 How you can benefit from IoT?
We are idea generators, goal seekers, challenge-thirsty professionals, creators of unique Internet
projects. We deliver unconventional solutions, combining the most advanced web technologies
Neuronics - IoT Solutions
IoT Enabled Fleet Management
Monitor your Fleet Operations in Real Time
Track your fleet arrivals, departures and delays, and ETA for shipments.
Real-time Geolocation Mapping
Monitor asset location in real-time with geolocation mapping services.
Historical Location Tracking
Track asset history to suggest optimal routes or increase accuracy of information needed for business intelligence.
IoT Powered Sustainable Buildings
Intelligent Command and Control and Automations
Improve building energy efficiency and sustainability
Reduce maintenance costs with predictive maintenance
Optimize space utilization
Enhance tenant security, comfort and safety
IoT Powered Smart Grids
Resilient, Predictable Smart Grids of the Future
Enable smart energy usage and clean energy adoption by making your grid smarter. We can help you build resilient private networks and sensors to enable
Outage Sensing
Reduce Transmission Losses
Preventive Maintenance
Deploy Feeder Automation
Request for

Services
Neuronics is focusing on engineering software development incorporating AI in emerging markets; helping people everywhere to live healthier, happier lives. 
Get in touch with us to inquire more about our services in Internet of things field and how can we assist you.