Get the fast-paced development talent to accelerate operations & development smooth delivery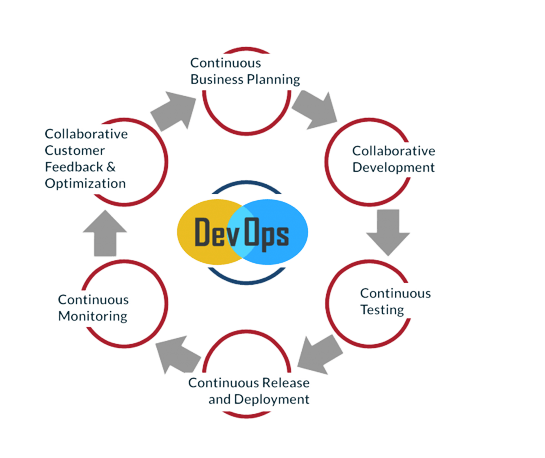 Endless Possibilities with DevOps
Neuronics DevOps is focused on continuous development and monitoring to ensure everything runs smoothly throughout the lifecycle. We provide support at every stage of the toolchain with a set of any modern dev services. Build ready-to-ship software with our agile methodologies. We are making it easier for you to do what you couldn't before.
Under the DevOps model, multiple teams work on cutting-edge technology on one platform to provide enterprise solutions for solving real-world problems. From planning to continuous development to deliver and make it operational at high velocity – helps becomes bigger & better according to today's tech demands.
Our team of experts not only works on incremental improvements but also continuous delivery management, code infrastructure & automation. Our mobile solutions are affordable and tailored for businesses, large & small. Neuronics DevOps uses the best principles to deploy & manage your critical systems, delivering smoother release & guaranteed uptime updates.
Making DevOps Faster & Stronger with Cutting Edge Features
We have team of experts on-board to give you and your business a competitive edge. Get the technical talent for quicker time-to-market. Our DevOps team manages the relationship between operations and development to ensure everything runs smoothly throughout the entire lifecycle of the software – from design to development to production support.
Assessment & Planning
Neuronics create a DevOps Assessment roadmap by visualizing the desired state and identifying the traceable metrics

Process Implementation
Neuronics proceed with the analysis, design, construction, automation and implementation in the identified areas

CI/CD Pipeline
Neuronics bridge the Dev-Ops gap through continuous development, continuous integration, continuous testing and continuous deployment
Process Automation
Neuronics automate the entire process pipeline from code generation to production, covering builds, test cases, quality checks, security and more

Agile Development
Neuronics design and build products in an agile, iterative manner to deliver value quickly and establish scalable, flexible development processes
Security Integration
Neuronics perform end-to-end security integration through 'Security as Code' mechanism using DevSecOps
Neuronics - DevOps Solutions
Automation Enables Standardization
Our DevOps Approach
Neuronics DevOps technique orchestrates all DevOps equipment, CI/CD strategies, and practices you need to boost up software transport. With Neuronics, you could automate infrastructure, streamline operations, as well as facilitate Infra/Dev/Ops/QA/security communication. We assist customers to construct a friction-unfastened operational environment, and leverage at ease coding practices. Our development and operations practices are industry-validated and based totally on current enterprise requirements. With our enterprise-main DevOps engineers, you can construct an movement plan that automates cloud infrastructure, hurries up software delivery, and inculcates a DevOps lifestyle for your employer.
Request for

Services
Neuronics is a tech startup focusing on engineering software development incorporating AI in emerging markets; helping people everywhere to live healthier, happier lives. 
Get in touch with us to inquire more about our services in Internet of things field and how can we assist you.