From ADAS to Electric Powertrain, our Cluster of Automotive Industry Solutions
Endless Possibilities for Automotive Industry
We're disrupting the value chain. Unlock boundless potential for the automotive industry with our revolutionary solutions. We are making it easier for you to do what you couldn't before.
Research, Modelling, Analytics & Testing
Strict rules and standards we follow to deliver you the best!
At Neuronics we follow and comply with multiple Automotive industry standards including Autosar, ISO, KMVSS, UNECE, IEC, MIL-STD, and NAVSEA. To achieve high quality and meet these standards we follow Lean SAFe methodology to apply thinking on a systems level. And always take an economic view while building incrementally with fast learning cycles.
Lean System Engineering has enabled us to apply multiple planning horizons and manage the supply chain while architecting for scale, modularity, and serviceability.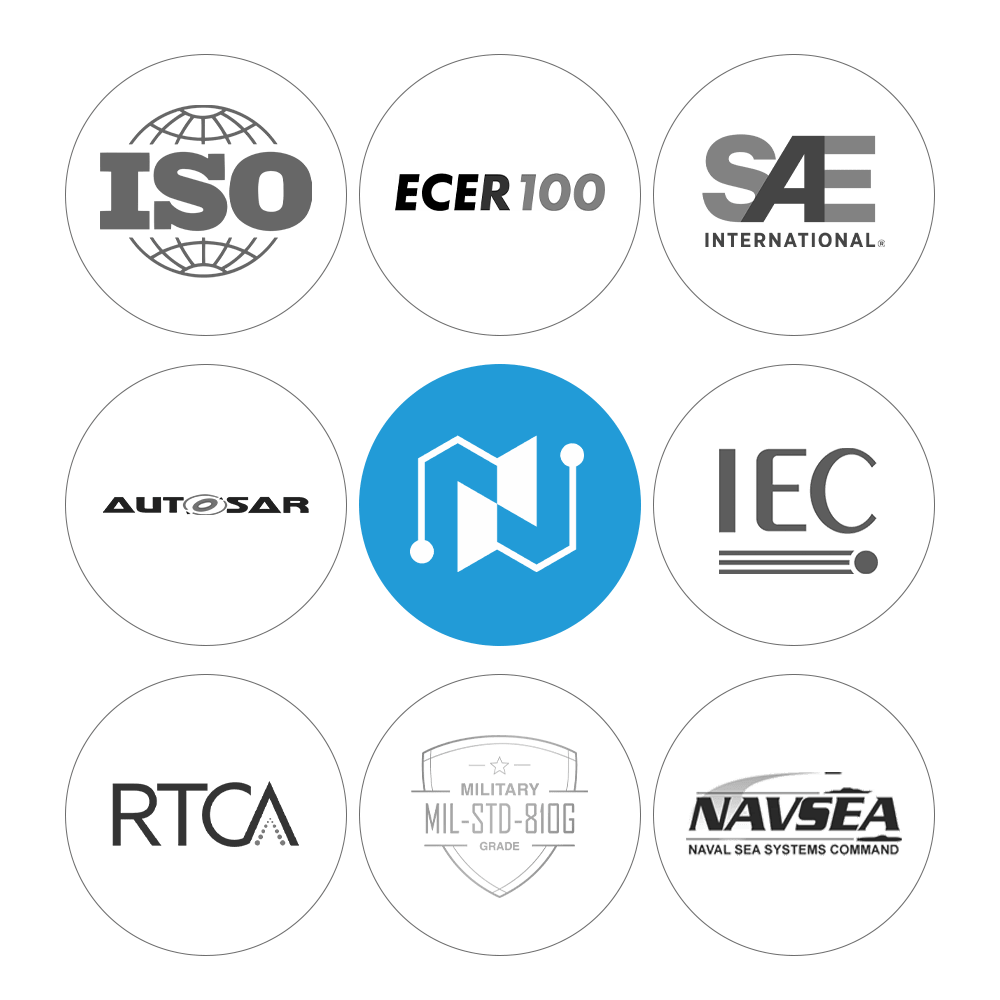 Our Featured Services for Automotive Industry
Neuronics offering its premium research, modelling, design and software services for automotive industry. Ranging from software to hardware to autonomous vehicles design and algorithms. Learn more:
Automotive Software
Neuronics provides automotive software development services that can power your next automated driving, we offer state of the art Application Layer SWC development and can-do ECU abstraction layer. We have also worked on embedded firmware development for real-time control systems.

Battery Management System
Neuronics consulting services are available for designing effective battery management for EVs. Battery Management will ensure Optimization to balance all cells to remain at same charge level. Resulting in EV engine using the optimum number of electrons.

Electric Powertrain
At Neuronics we are enabling success of EVs thru integration of Motor, Inverter, transmission and controller. Our engineering expertise is available to design and test complete electrified powertrain.

Autonomous Vehicles/ADAS
Neuronics has worked on state-of-the-art machine learning and computer vision algorithms. We have delivered deep-learning and sensor fusion for OEM manufacturers to enhance their ADAS functionalities leading to safer driving future.
Testing Services
Neuronics is offering its services in Hardware in the Loop and Software in the Loop testing for Automotive industry. We have worked on restbus simulation-vehicle bus analysis for our prestigious clients. We are also specialized with Blackbox and White box testing.
HMI/GUI Design & Development
Neuronics can design and instrumental clusters and vehicle infotainment systems. Neuronics has ability in ADAS interfacing. We use industry leading softwares like QT Automotive Suite and Kanzai Studio.
On  An Ambition To Transforming The Automotive World
Experience more than just a typical service provider – we are your dedicated engineering partner. Navigating the ever-changing technological landscape in automotive software, electric powertrain, battery management systems, testing, and autonomous vehicles, we ensure you stay at the forefront of innovation.
Request for

Services
Join us in embracing a bold vision to revolutionize the automotive world through electrifying vehicles and pioneering autonomous driving technology. Together, we are shaping the future of transportation.
Neuronics delivers services for product research, product development and qualification of automotive components. We have the experience and technical expertise to assist our customers in addressing their needs.